AirPura C600DLX air purifier showcases the AirPura oversize filter canister with AirPura C600DLX colossal volume of enhanced VOC adsorbent which renders the superior Extreme VOC removal rate and makes AirPura C600DLX a powerful AirPura solution for Extreme VOC and Specific chemical problems in residential and office environment under 2000 sq. ft.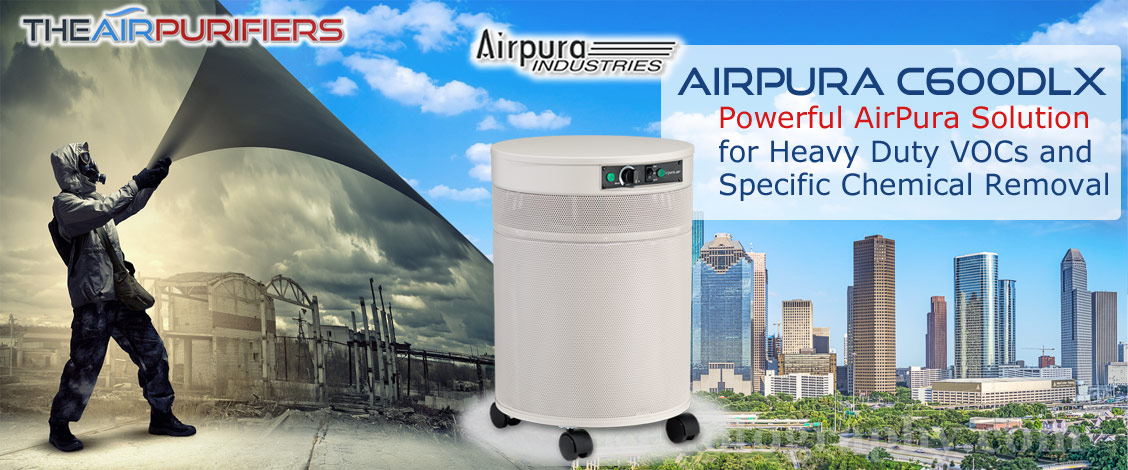 AirPura C600DLX Key Features
AirPura C600DLX utilizes a colossal volume of AirPura C600DLX enhanced VOC adsorbent in oversize canister for Extreme VOC removal.
The AirPura C600DLX is powered by energy efficient and quiet a single-piece motor/fan.
The AirPura C600DLX is equipped with a variable speed control to ensure optimal air flow in all air cleaning conditions.
AirPura C600DLX delivers an impressive air flow of 560 CFM - 40% higher than for most air purifiers in the same category.
AirPura C600DLX utilizes non off-gassing the all steel housing with a durable appliance quality thermoset coating.
The AirPura C600DLX textured finish has an attractive modern appearance and is available in few colors to match your decor.
AirPura C600DLX carries the most comprehensive 5 / 10 Year limited manufacturer's warranty.
AirPura C600DLX doesn't release any ozone or any toxic off-gassing making Airpura C600DLX the chemically inert air purifier.
AirPura C600DLX ships FREE by Standard ground service in continental USA and in Canada.
The AirPura C600DLX purchases are Tax Free for all US customers.
AirPura C600DLX is a subject to 30-Day Money Back Satisfaction guarantee Return policy.
When to Use AirPura C600DLX ?
AirPura C600DLX Extreme VOC Air Purifier is a top choice Airpura air purifier for dealing with High concentrations of VOCs (Volatile Organic Compounds) and most specific chemicals in large open areas under 2000 sq. ft.
The AirPura C600DLX typical applications include removal of VOCs, formaldehyde, ammonia, toxic chemicals released by and contained in:
Pesticides, Herbicides
Particle board
Chinese drywall
VOG (Volcanic Smoke and Gases)
Cannabinoids in Marijuana dispensaries
Wildfire smoke
Heavy Tobacco smoke
Smoke from wood burning stove or furnace
Stain and varnish (lacquer) from new furniture
Formaldehyde in new carpet stain and fire retardants
VOCs from fresh paint, wallpaper, oil based paints
Fragrances and essential oil vapors
Toxic off-gassing from office machines
Laser engraving
3D printing
Paint thinners
Exhaust fumes from nearby heavy traffic
Mold Mycotoxins
AirPura C600DLX Filters
Oversize 3-inch deep filter canister with VOC adsorbent.
The 3-inch deep oversize filter canister in the core of the AirPura C600DLX air filtration system. It contains a colossal amount (26 lbs.) of Specialty enhanced VOC adsorbent, which is a blend of 83% of activated granular carbon from and 17% of potassium iodide. Such a massive amount of adsorbent in combination with extended dwelling time in 3-inch deep carbon bed, renders the exceptional adsorption capacity for VOCs and most specific chemicals in high concentrations together with over 4000 of regular chemicals.


HEPA-Barrier Post Filter.
Due to the oversize filter canister, the AirPura C600DLX doesn't have enough room left in the filter compartment for placement of a standard size True HEPA filter. Therefore, the HEPA-Barrier post filter is used in the AirPura C600DLX air filtration system instead to filter the air from most common allergens and dust.


Polyester Pre Filter.
AirPura C600DLX employs the standard Polyester based Pre-filter as the first stage of the air filtration system. The pre filter traps large visible size dust and dirt particles and protects other filters from faster contamination, while extending their lifetime.
The Pre filter can be vacuumed using a soft brush right through the metal grill to keep it clean and easily replaced when gets dirty or ruined.


Unbleached Pesticide-Free Cotton Pre Filter.
The optional Unbleached Pesticide-free cotton pre-filter is available instead of the standard polyester pre-filter for chemically sensitive individuals at extra cost.
AirPura C600DLX Motor Fan
The AirPura C600DLX powerful, energy efficient backward impeller with variable speed control delivers at outstanding air flow of 560 CFM.
The factory balanced single-piece Motor/Fan unit reduces the operational noise and vibration.
The variable speed control makes it easy to find the most suitable speed setting for all air cleaning performance and level of sound from the moving air.
The separate chamber at the unit's top encloses the electric motor, wiring and other components. This helps isolate potentially off-gassing components from the already filtered air and prevent its possible re-contamination.
AirPura C700DLX Upgrade
WANT AIRPURA C600DLX WITH BETTER COVERAGE AND AS TWICE AS QUIET OPERATION.
Upgrade to More Powerful yet Much Quieter the 700 Series EC (Electronically Controlled) Motor/Fan.
Get the following benefits and advantages with this upgrade:
| | | |
| --- | --- | --- |
| AIRPURA MODEL | C600DLX | C700DLX |
| Air Flow Rating (CFM) (open air) | 560 | 635 |
| Maximum Cleaning Area, sq. ft. | 2000 | 2280 |
| Level of Noise, dB (on Low @ 6 ft.) | 39.9 | 30.2 |
To upgrade to AirPura C700DLX unit select the 700 Upgrade option in the Power Unit Options pull down menu.
Please note. This upgrade doesn't affect all other AirPura C600DLX features, options, warranty and replacement filters.
Power Supply Options
By default, the AirPura C600DLX is equipped with electric motor and a power cord for 110-120V/60Hz North American electric power system.
However, the AirPura C600DLX can be equipped with optional electric motor and power cord for 220-240V/50 Hz electric power supply at Extra cost.
This option can be selected from the Power Supply pull down menu of air purifier available options.
AirPura C600DLX Housing
AirPura C600DLX employs the AirPura unified all steel durable and impact resistant housing.
The durable appliance quality thermoset powder coating is scratch, scuff and stain resists and will retail its modern attractive appearance for many years to come.
The chemically inert textured finish available in three colors: Beige, Black and White seamlessly blends into any decor.
The AirPura C600DLX features 360° Polluted air intake and 360° Clean air outlet made and of perforated grill.
Such design ensures and unimpeded air flow through clean air delivery system, which helps improve the overall air purifier performance ensures even clean air distribution.
The clean air outlet at the top section of the air purifier is away from dust and dirt on the floor.
The Wheel Casters on the bottom plate provide a high level of mobility and maneuverability in cleaning area of any size.
AirPura C600DLX Manufacturer's Warranty
AirPura C600DLX air purifier is covered by the most comprehensive manufacturer's warranty.
The Limited Manufacturer's Warranty includes:
5 Years on Parts
10 Years on Labor
One of the strongest in the industry manufacturer's warranty gives the Airpura users a peace of mind and promotes a worry-free ownership of AirPura air purifier.
AirPura C600DLX Certification
AirPura C600DLX is certified by the US and Canadian certification authorities for safety.
The AirPura C600DLX conforms to ANSI and UL 507; CSA C22.2 #113


AirPura C600DLX What's Included
The AirPura C600DLX air purifier arrives in the factory sealed durable triple-wall certified corrugated cardboard box with ample of padding and cushioning.
The packaging is designed to provide a superior protection from possible damages in transit under most circumstances.
The AirPura C600DLX is brand new with all filters installed per model specification.
It is fully assembled and ready-to use - just unpack and plug it in.
It requires no installation, unless the optional wall mount brackets are used.