AirPura UV600 fitted with AirPura Germicidal Ultraviolet (UV) Bulb achieves a superior rate of airborne pathogen suppression which makes the AirPura UV600 an indispensable air purifier for individuals with severe respiratory impairments and illnesses in large homes, offices or workplace areas under 2000 sq. ft.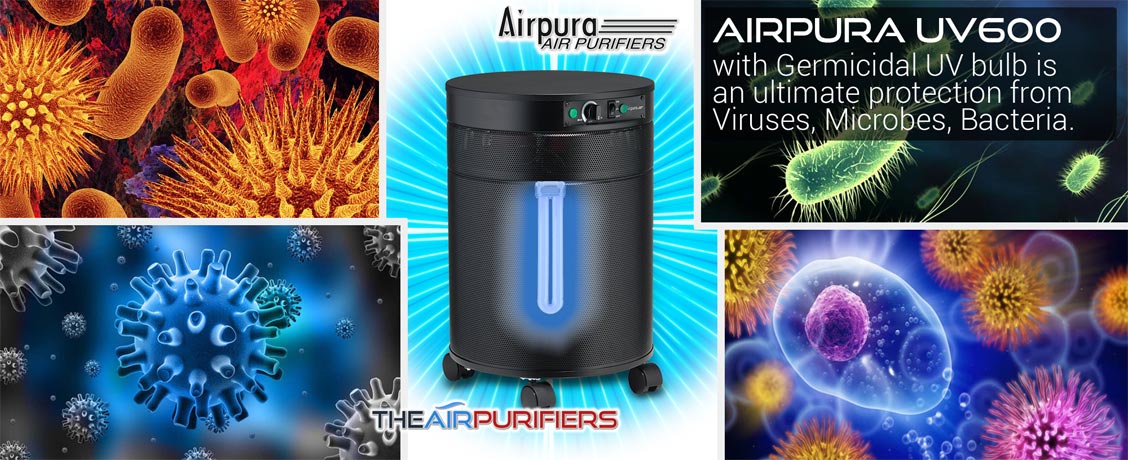 AirPura UV600 Highlights
AirPura UV600 equipped with AirPura UV600 High-output Germicidal UV bulb provides a superior level of airborne pathogen suppression.
The AirPura UV600 HEPA filter traps all allergens and dust while Carbon filter canister ensures effective removal of most chemicals and odors.
AirPura UV600 is powered by energy efficient, vibration and noise-free motorized backward impeller.
The AirPura UV600 powerful fan rated at 560 CFM of air flow makes AirPura UV600 sufficient for purifying large areas under 2000 sq. ft.
Equipped with a variable speed control, the AirPura UV600 allows easily setup the optimal air flow in all situations.
AirPura UV600 features non off-gassing the all metal housing with a appliance quality thermoset powder coating.
AirPura UV600 doesn't produce ozone or any toxic off-gassing, which makes Airpura UV600 the chemically inert air purifier.
The AirPura UV600 10 Year limited manufacturer's warranty is a strongest in the industry.
AirPura UV600 air purifiers are shipped Free of charge by Standard Ground service in continental USA and Canada.
There are No Border Crossing fees for all US and Canadian customers.
There is NO Sales Tax on AirPura UV600 purchases for all US and International customers.
AirPura UV600 carries a 30-Day Money Back Satisfaction Guarantee Return Policy.
AirPura UV600 Main Purpose
AirPura UV600 is designed with the primary purpose - to deliver a Superior level of protection from exposure to airborne pathogens: germs, microbes, bacteria, viruses (including coronavirus), fungi, and thus to help minimize or eliminate the occurrence of infectious deceases triggered by pathogenic viruses, microbes, bacteria, which may include: influenza, pneumonia,rubella, chickenpox, SARS, smallpox, mumps, measles, ebola, tetanus, typhoid fever, diphtheria, meningitis, anthrax, tuberculosis, etc.
The secondary purpose of AirPura UV600 air purifier is to provide a full scale air purification from all allergens, lung damaging dust, household chemicals, cigarette smoke and noxious odors in large residential, institutional, commercial and business areas under 2000 sq. ft. To achieve this objective AirPura UV600 employs high efficiency air filtration system.
Air Filtration System
True HEPA Filter - Standard.
The AirPura UV600 air filtration system comprises a standard 2-inch deep True HEPA filter with top and bottom metal end caps. True HEPA filter has a guaranteed filtration efficiency of over 99.97% for all sub-micron solid airborne contaminants as small as down to 0.3 micron in size including: airborne pathogens, mold and plant spores, pollen, house dust mites and dust mite debris, cat and dog dander, bird feather dust, microscopic ash particles in tobacco smoke, wildfire smoke, volcanic smog, smoke from wood burning stove, etc. The metal end caps help increase the filtter rigidity and elimnate toxic off-gassing.
Super HEPA Filter - Optional.
To achieve a superior rate of removal of sub-micron allergens and lung-damaging dust the AirPura UV600 can be equipped with the optional 99.99% @ 0.3 micron efficiency Super HEPA filter instead of a standard 99.97% @ 0.3 micron efficiency True HEPA filter.
The AirPura UV600 equipped with Super HEPA filter has a designated model number AirPura UV614.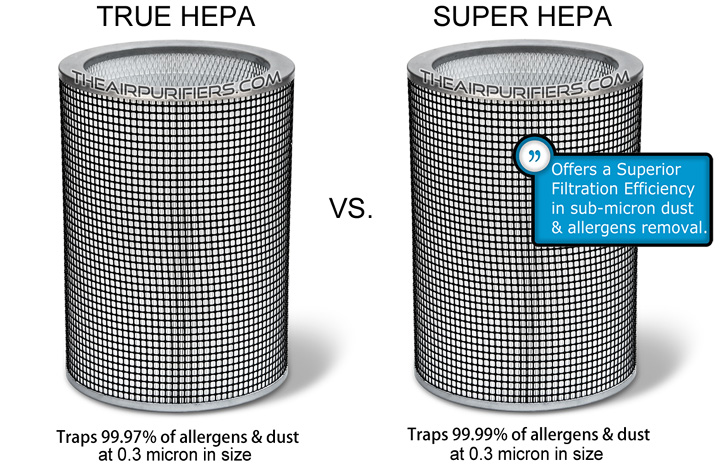 Standard 2-inch Deep Carbon Filter Canister.
The AirPura UV600 standard 2-inch deep carbon filter canister contains a substantial amount (18 lbs.) of regular activated carbon adsorbent from coconut shell to ensure effective and speedy removal from the air of all regular chemicals and noxious odors such as: household cuisine odors, pet odors, chemicals in cigarette smoke, smoke from wood burning stove, household chemicals and many more.

IMPORTANT NOTICE!
You can customize the performance of your AirPura UV600 in removal of specific groups of chemicals by choosing the Carbon Filter Canister Options:
Anthracite Carbon (no extra cost) - has low odor emission and helps improve the adsorption capacity for petroleum based products.


VOC Adsorbent (extra cost) - provides enhanced adsorption of VOCs (Volatile Organic Compounds), ammonia, pesticides, toxic chemicals in tobacco, wildfire smoke, VOG (Volcanic Smoke and Gases).


Formaldehyde Adsorbent (extra cost) - provides enhanced removal of formaldehyde, aldehyde, VOCs, toxic chemicals in heavy tobacco smoke.


German Odorless Carbon (extra cost) - totally chemically inert adsorbent (no odors) is highly beneficial to individuals with Multiple Chemical Sensitivity (MCS).
Select the alternative Carbon Filter Option from the Carbon Filter pull-down menu.

Germicidal Ultraviolet (UV) Bulb.
AirPura UV600 is equipped with standard 20-Watt High-Output Germicidal UV Bulb. The Germicidal UV bulb produces the ultraviolet light with specific wavelength of 253.7 nm (nanometer). The sterilization power of Germicidal UV light is 1,600 times of a direct sunlight, and therefore is extremely lethal to airborne pathogens: viruses, bacteria, microbes, germs, mold spores, fungi, etc. Exposure to Germicidal UV light is the most effective and speedy way of sterilizing the air from airborne pathogens and antigens.
The UV bulb is positioned in the center of AirPura UV600 filter compartment to ensure the utmost effectiveness in sterilization of the passing through air and to prevent a direct exposure to UV light outside the air purifier.
The control panel of AirPura UV600 has a separate On/Off switch with indicator light that allows to operate the UV bulb fully independently.

Polyester Pre-filter (Standard)
The 1-inch thick polyester pre-filter forms the first stage of the AirPura UV600 air filtration system. The pre-filter traps large dust and dirt particles, including lint and hair and has an important function of protecting fine True HEPA filter from fast saturation by those large particulates and extending its lifetime.

Unbleached Pesticide-Free Cotton Pre-filter (Optional)
The unbleached pesticide-free cotton pre-filter is available option instead of the standard polyester pre-filter for concerned or chemically sensitive individuals.
Motor Fan Assembly
AirPura UV600 inherits the standard for Airpura lineup powerful, energy efficient single piece Motor/Fan with variable speed control.
Rated at 560 CFMT of it delivers the volume of air about 40% higher than for most other air purifiers in this category.
The one-piece Motor/Fan is factory balanced for vibration and noise-free operation.
Its compact design leaves more room allowing accommodate larger capacity HEPA and Carbon filters.
Variable speed control allows to set the optimal air flow for wide range of air cleaning requirements, specific activities or a time of a day.
The motor, electric wiring and electric components are isolated in a separate chamber (top deck of the unit). Such design helps eliminate their contact with already filtered air and prevents it possible re-contaminated.
AirPura UV700 Unit Upgrade
UPGRADE TO AIRPURA UV700 TO GET BETTER COVERAGE AND AS TWICE AS QUIET OPERATION.
Upgrade to More Powerful yet Much Quieter the 700 Series EC (Electronically Controlled) Motor/Fan.
| | | |
| --- | --- | --- |
| AIRPURA MODEL | UV600 | UV700 |
| Air Flow Rating (CFM) (open air) | 560 | 635 |
| Maximum Cleaning Area, sq. ft. | 2000 | 2280 |
| Level of Noise, dB (on Low @ 6 ft.) | 39.9 | 30.2 |
To upgrade to AirPura UV700 unit select the 700 Upgrade option in the POWER UNIT pull down menu.
Please note, all other AirPura UV600 features, options, warranties and replacement filters remain unaffected by this power unit upgrade.
Air Purifier Housing
AirPura UV600 employs the standard throughout the Airpura lineup durable and impact resistant the all metal housing.
The baked-on powder coating forms a durable scratch, scuff and stain resistant appliance quality finish.
Available in three attractive textured colors it has an attractive appearance and blends perfectly with most modern decors.
The powder coat produces no off-gassing and promotes the chemically inert AirPura design.
The 360° polluted air intake made of perforated metal grill helps reduce the back pressure and improves the overall air purifier performance.
The 360° clean air outlet at the upper section of the unit provides even clean air distribution and improves the air circulation in the room.
AirPura UV600 is equipped with four Wheel casters on the bottom plate to ensure high level of maneuverability in the cleaning area.
Manufacturer's Warranty
AirPura UV600 air purifier is covered by the most comprehensive in the industry 10 Year limited manufacturer's warranty.
It includes:
5-Year Warranty on Parts and Labor
5-Year Additional warranty on Labor
The Total duration of Limited Manufacturer's Warranty of 10 Years promotes a worry-free ownership of AirPura UV600.
AirPura UV600 Certification
AirPura UV600 is certified by the US and Canadian certification authorities for safety.
The AirPura UV600 conforms to ANSI and UL 507; CSA C22.2 #113
AirPura UV600 - What's in the Box
AirPura UV600 arrives from the factory:
Brand New and Fully assembled.
All filters are installed (per model specification).
Unit is Ready-to-use (unpack and plug it in).
No installation is required (unless optional wall mount brackets are used).
Useful Links