AirPura C600 air purifier equipped with AirPura C600 colossal amount of adsorbent in AirPura extra large filter canister renders a superior rate of Heavy chemical abatement and makes AirPura C600 a perfect AirPura solution for Heavy chemical problems in large residential, office, institutional and commercial areas under 2000 sq. ft.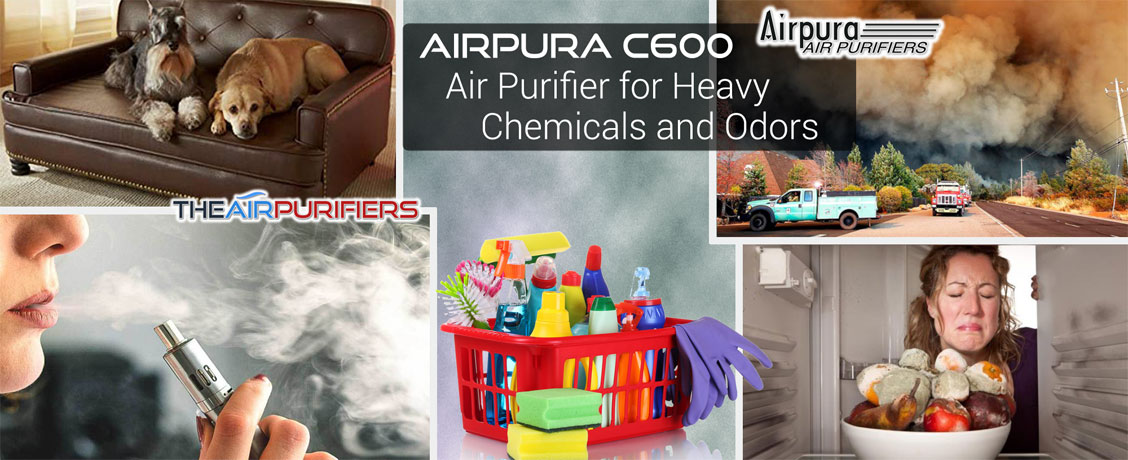 AirPura C600 Key Points
AirPura C600 showcases the AirPura C600 oversize filter canister filled with colossal amount 26 lbs. of regular adsorbent.
The AirPura C600 3-inch extra deep carbon canister ensures a superior rate of heavy chemicals and odors abatement.
The AirPura C600 powerful, compact, single-piece motorized backward impeller delivers an impressive air flow of 560 CFM.
This renders to AirPura C600 a sufficient power for effective and speedy air purification of large areas under 2000 sq. ft.
AirPura C600 is equipped with a Variable speed control with multiple number of speed setting from Low to High.
The variable speed control allows the AirPura C600 users easily find the optimal fan speed and the air flow in all situations.
AirPura C600 employs durable, non off-gassing the all Metal housing with the appliance quality thermoset powder coating.
AirPura C600 is covered by a strongest in the industry the peace-of-mind 10-Year limited manufacturer's warranty.
AirPura C600 doesn't produce Ozone or Toxic off-gassing while minimizing the environmental footprint.
AirPura C600 air purifier Ships Free in US and Canada by Standard Ground service with NO Border Crossing charges or fees.
There is no Sales Tax on AirPura C600 purchases for all US and International customers.
AirPura C600 air purifier comes with a Peace of Mind 30-Day Money Back Satisfaction guarantee Return Policy.
AirPura C600 Excels in Removal of
Tobacco (Cigarette and Cigar) smoke
Cuisine odors
Pet odors
Body odors
Cannabinoids and Terpene odors
Wildfire smoke
VOG (volcanic smoke and gases)
Smoke from wood burning stove
Exhaust fumes from nearby traffic
Solvent and paint thinner vapors
Vaping fumes
AirPura C600 - Where to Use
Home, Office, Classroom
Beauty Salons
Preliminary Courtrooms
Cannabis / Marijuana dispensaries
Animal Clinics
Kennels
Art Studios
Printshops
Fitness Centers
House Showings
Food processing areas
Air Filtration System
Oversize 3-inch Deep Carbon Filter Canister.
The oversize carbon filter canister is a core the AirPura C600 air filtration system. The 3-inch deep filter canister contains a colossal amount (26 lbs.) of activated granular carbon adsorbent. The combination of huge amount of adsorbent with an extended dwelling time of 3-inch deep carbon bed results in the unparalleled adsorption capacity for most chemicals in high concentrations.

Available Types of Adsorbent.

Coconut Shell Carbon (Standard)
The coconut shell activated granulated carbon is a Standard adsorbent used in the AirPura C600 filter canister. The coconut shell carbon is the most common type of adsorbent and is widely used in high performance air purifiers for effective removal of nearly 4000 gaseous chemical substances.

Anthracite Carbon (Optional)
The AirPura C600 is available with optional Anthracite based activated granular carbon at No Extra Cost. The Anthracite adsorbent is free from a very light sweet smell attributed to a Coconut shell carbon and can be more suitable for individuals with Multiple Chemical Sensitivity (MCS).


HEPA-Barrier Post Filter.
Due to oversize carbon filter canister, the air filtration system of AirPura C600 doesn't include the standard size True HEPA filter. The single layer 95% @ 1 micron efficiency HEPA-Barrier Post filter on frame is used instead to provide an adequate filtration of the air from most common allergens and dust.


Polyester Pre Filter (Standard).
AirPura C600 uses the Standard Polyester based Pre-filter as a first stage of the air filtration system. The 1-inch thick non woven pre-filter traps most of large dust and dirt particles and plays an important role in protecting the air filtration system from faster contamination.


Unbleached Pesticide-free Cotton Pre-filter (Optional)
The chemically sensitive individuals may opt for the chemically inert Unbleached Pesticide-free Cotton Pre-filter instead of the standard polyester one at Extra cost.


Non Off-Gassing Felt Gaskets
As a part of the AirPura chemically inert design, the AirPura C600 employs non off-gassing top and bottom Felt Gaskets instead of the commonly used rubber gaskets. The chemically inert Felt gaskets pressure seal the filter chamber to eliminate polluted air by-pass and increase the overall air filtration performance.
Motor Fan Assembly
AirPura C600 is powered by the Airpura standard energy efficient motorized backward impeller (Motor/Fan) with a variable speed control. It delivers an impressive air flow of 560 CFM (cubic foot per minute) and makes the AirPura C600 highly effective in purifying large areas under 2000 sq. ft.
The single piece Motor/Fan is factory balanced for vibration and noise-free operation.
The variable speed control with multiple speed settings helps easy to find the most suitable speed setting in all situations.
The electric motor along with electric wiring and electric components is isolated from the passing through purified air in a separate chamber at the top section of the unit. Such design helps avoid re-contamination of the already filtered air on its way through the air purifier.
AirPura C700 Upgrade
UPGRADE AIRPURA C600 TO GET BETTER COVERAGE AND TWICE AS QUIETER OPERATION.
Upgrade to More Powerful yet Much Quieter the 700 Series EC (Electronically Controlled) Motor/Fan.
Benefits and advantages with this upgrade:
| | | |
| --- | --- | --- |
| MODEL | C600 | C700 |
| Air Flow Rating (CFM) (open air) | 560 | 635 |
| Maximum Cleaning Area, sq. ft. | 2000 | 2280 |
| Level of Noise, dB (on Low @ 6 ft.) | 39.9 | 30.2 |
To upgrade to AirPura C700 unit select the 700 Upgrade option in the Power Unit Options pull down menu.
Please note. This upgrade doesn't affect all other AirPura C600 features, options, warranties and replacement filters.
Alternative Power Options
The AirPura C600 comes equipped with motor and power cord for 110-120V/60Hz North American electric power standard.
The optional electric motor and a Power cord for 220-240 Volts, 50/60 Hz electric power supply is available at Extra cost.
AirPura C600 Housing Design
The AirPura standard unified housing features a durable, impact resistant and non off-gassing the all steel construction design.
The appliance quality thermoset powder coating has an attractive modern appearance and is available in three colors : Black, White and Beige (Cream).
The non off-gassing powder coating contributes into a chemically inert AirPura design.
The AirPura C600 clean air delivery system design features the 360° polluted air intake and 360° clean air outlet.
Such design ensures an unimpeded air flow through the unit and helps improve the overall air purifier performance.
The Four Wheel Casters on the bottom plate helps AirPura C600 to be moved easily between the rooms.
AirPura C600 Manufacturer's Warranty
The AirPura C600 comprehensive manufacturer's warranty includes:
5 Years on Parts and Labor.
5 Years additional warranty on Labor.
The Total duration of Limited Manufacturer's Warranty of 10 years gives users a peace of mind and promotes a worry-free ownership of AirPura unit.
AirPura C600 Maintenance
AirPura C600 air purifier is virtually maintenance free. Equipped with large long-lasting filters, AirPura C600 is designed for a long continuous operation without require any special care and maintenance.
The simple maintenance is limited to:
vacuuming the pre-filter using the vacuum cleaner and soft brush right through the perforated intake grill every few weeks.
replacing the pre-filter when it gets too dirty or ruined (usually every 9 to 12+ months)
replacing the main filters according to the filter replacement schedule or the filters condition.
wipe off or vacuum the dust from the air purifier housing when needed.