AirPura F600 air purifier employs the F600 specially formulated adsorbent to help the AirPura F600 achieve a superior Formaldehyde and VOC adsorption rate in newly constructed or renovated homes, office areas, RVs, mobile homes, motor homes, travel trailers and other formaldehyde affected areas under 2000 sq. ft.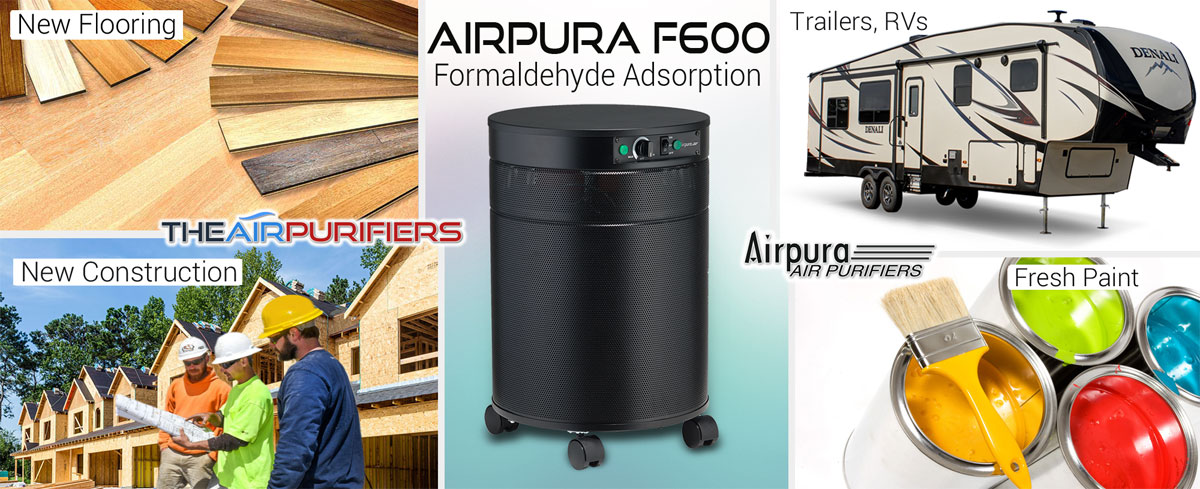 AirPura F600 Key Points
The AirPura F600 large amount of specially formulated adsorbent guarantees effective adsorption of formaldehyde, VOCs, other toxic chemicals.
AirPura F600 employs the AirPura standard HEPA or optional Super HEPA filter to provide a guaranteed removal of sub-micron allergens and dust.
The AirPura F600 is powered by AirPura standard energy efficient, vibration and noise-free motorized backward impeller.
Rated at 560 CFM the powerful motor/fan makes AirPura F600 effective for cleaning large areas under 2000 sq. ft.
Upgrade to 700 Series EC (electronically controlled) motor/ fan for Better coverage and as Twice as quieter oprtaion.
The AirPura F600 variable speed control helps easily find the optimal speed settings in all situations.
AirPura F600 is encased in a durable impact resistant the all steel housing with perforated metal grill.
The chemically inert backed on powder coating has a modern appearance and a durable appliance quality textured finish.
The environment friendly AirPura F600 produces no ozone or any toxic off-gassing and is totally chemically inert.
AirPura F600 carries the strongest in the industry 5/10 Year limited manufacturer's warranty.
Free Standard Ground shipping and No US tax make the AirPura F600 purchasing decision easy.
No US Sales Tax, Border crossing fees and any other charges on AirPura F600 purchases for all US customers.
AirPura F600 ships with a 30-Day Money back Satisfaction Guarantee Return policy (some conditions apply).
AirPura F600 Main Purpose
Aside from guaranteed removal of sub-micron allergens and dust, the ArPura F600 main purpose is to provide enhanced removal of formaldehyde released by or abundantly present in:
new carpeting
new furniture
new flooring
fresh paint
beauty products
office machines
Chinese drywall
exhaust gases from nearby traffic
wildfires
pesticides
The AirPura F600 Typical Applications include:
Newly constructed and renovated homes
Homes with new furniture, new carpeting, new engineered floors
Freshly painted homes
RVs
Mobile Homes, motor homes
Travel Trailers
Boats
Beauty Salons
Offices with lots of office machines
Areas with frequent wildfires
Areas near farmland (pesticides use)
Air Filtration System
True HEPA Filter.

AirPura F600 employs the AirPura standard 2-inch deep HEPA filter containing 40 sq. ft. of certified True HEPA media. Rated at 99.97% @ 0.3 micron air filtration efficiency, True HEPA filter traps nearly 100% of all microscopic airborne contaminants and provides a superior protection from exposure to microscopic dust and allergens, such as:
mold spores
plant spores
pollen
house dust mites and debris
ground talc
asbestos
lung damaging dust
cat and dog dander
bird feather dust
particulates in tobacco, wildfire smoke and smoke from wood burning stove
microscopic volcanic ash
airborne pathogens - microbes, bacteria, germs


Large Carbon Filter Canister.

AirPura F600 features a large separate 2-inch deep filter canister filled with 18 lbs. of specially formulated adsorbent. It contains a mixture of 83% coconut shell granular carbon with 17% of Potassium Permanganate for enhanced adsorption of formaldehyde, VOCs and and most other specific chemicals.

Large Pre-filter.

The AirPura standard 1 inch thick Polyester Pre-filter is the first stage of the AirPura F600 air filtration system. The polyester pre-filter traps most of larger visible dust, lint, hair and thus provides an effective protection of fine True HEPA filter from fast contamination and extend its lifetime.

Germicidal UV Bulb (optional).

AirPura F600 can be equipped with the optional Germicidal UV Bulb (at Extra Cost) for added superior level of protection from airborne pathogens: microbes, bacteria, viruses, germs, fungi, etc.
AirPura F600 Motor Fan Assembly
The standard Airpura motor / fan rated at 560 CFM of air flow powers the AirPura F600 air purifier.
The one piece Motor/Fan is factory balanced to ensure the vibration and noise-free operation.
The variable speed control helps the AirPura F600 users easily find the optimal speed setting for all air cleaning applications, any household activity or a time of the day.
The compact motor / fan design helps use the internal space more effectively and allows accommodate larger more efficient filters.
The motor and the electric components are isolated from the already filtered air in a separate chamber at a top deck to prevent its possible re-contamination.
AirPura F700 Upgrade
YOU CAN UPGRADE AIRPURA F600 TO GET BETTER COVERAGE AND TWICE AS QUIETER OPERATION.
Upgrade to More Powerful yet Much Quieter the 700 Series EC (Electronically Controlled) Motor/Fan.
This upgrade renders the Benefits and advantages:
| | | |
| --- | --- | --- |
| AIRPURA MODEL | F600 | F700 |
| Air Flow Rating (CFM) (open air) | 560 | 635 |
| Maximum Cleaning Area, sq. ft. | 2000 | 2280 |
| Level of Noise, dB (on Low @ 6 ft.) | 39.9 | 30.2 |
To upgrade to AirPura F700 unit select the 700 Upgrade option in the Power Unit options pull down menu.
Please note. All other AirPura F600 features, options, warranties and replacement filters remain the same and are not affected by this upgrade.
Power Supply Options
The AirPura F600 standard model is equipped with 110-120V/60Hz motor and a power cord with North American 3-prong plug with ground pin
AirPura F600 air purifier can be equipped with optional 220-240V, 50Hz electric motor and power cord per customer's specification at Extra cost.
AirPura F600 Housing
As all AirPura 600 series portable models, the AirPura F600 employs durable, non off-gassing the all metal housing design with perforated metal grill.
Baked-on powder coating forms the appliance quality, durable scratch, scuff and stain resistant surface.
The textured thermoset powder coating has an attractive modern look and will retain its original appearance for many years to come.
It doesn't produce toxic off-gassing and contributes into the chemically inert Airpura air purifier design.
The 360° polluted air intake made of perforated metal grill ensures an unobstructed air inflow and improves the air purifier performance.
The 360° Clean air outlet provides an even air clean distribution in the room and improves the air circulation.
Four Wheel Casters on the bottom plate ensure a high level of maneuverability in the cleaning area or between the rooms.
Manufacturer's Warranty
As most AirPura models, the AirPura F600 comes with the most comprehensive Limited manufacturer's warranty.
The peace of mind Limited Manufacturer's Warranty includes:
5 Years on Parts
10 Years on Labor
Total duration - 10 Years
The AirPura 10-year warranty promotes a worry-free ownership of AirPura F600.
AirPura F600 Certification
AirPura F600 is certified by the US and Canadian certification authorities.
The AirPura F600 conforms to ANSI and UL 507; CSA C22.2 #113
AirPura F600 - What's Included
AirPura F600 arrives from the factory:
Brand New and Fully assembled
All filters installed (per model specification)
Ready-to-use (unpack and plug it in)
No installation is required (unless optional wall mount brackets are used).