AirPura I600 features the AirPura I600 exclusive oversize True HEPA filter for large scale allergen removal. Along with the AirPura I600 multiple available upgrades this makes I600 an ideal AirPura air purifier for severe allergy and asthma sufferers and for diverse Healthcare air cleaning applications in large open areas under 2000 sq. ft.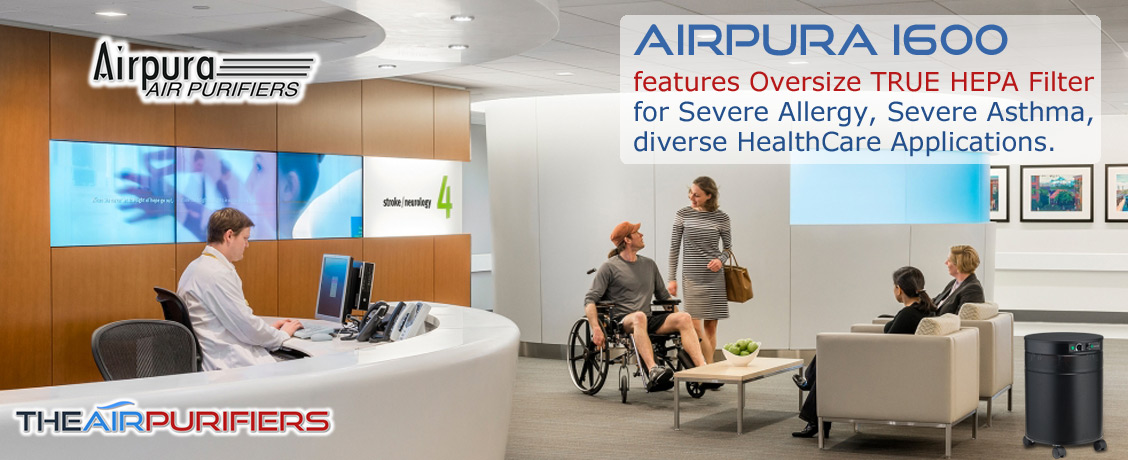 AirPura I600 Highlights
AirPura I600 showcases the AirPura I600 exclusive oversize True HEPA filter with 100 sq. ft. of medical grade True HEPA media.
AirPura I600 features a single-piece compact, powerful, yet energy efficient motorized backward impeller.
AirPura I600 employs a variable speed control allowing an easy selection of the optimal air flow in all air cleaning conditions.
The AirPura I600 impressive air flow of 560 CFM makes the AirPura I600 powerful enough to cover large areas under 2000 sq. ft.
The AirPura I600 durable non off-gassing the all steel construction features the appliance quality thermoset powder coating.
AirPura I600 is covered by the 5-Year limited manufacturer's warranty - one the strongest in the industry.
AirPura I600 doesn't produce any ozone or toxic off-gassing, which makes AirPura I600 the chemically inert air purifier.
The AirPura I600 wheeled bottom plate allow for very easy movement within the cleaning area.
AirPura I600 air purifier is shipped FREE of Charge by Standard ground service in US and Canada.
There is no Sales Tax on AirPura I600 purchases for all US and International customers.
AirPura I600 purchases are covered by a 30-Day Money Back Satisfaction guarantee Return policy.
AirPura I600 Applications
AirPura I600 air purifier is the best choice whenever you need to achieve a Superior air filtration efficiency and guaranteed removal of all sub-micron airborne contaminants, including: allergens, lung damaging dust, airborne pathogens (viruses, bacteria, microbes) in large areas under 2000 sq. ft.
Aside from effective household or office air purification, the AirPura I600 can also play an important role in implementing the environmental control measures in healthcare settings, in which the airborne transmission becomes even more prevalent due to the presence of already infected and immunosuppressed patients.
The typical healthcare settings which may significantly benefit from using AirPura I600 include:
Walk-in Medical clinics
Nursing homes
Rehabilitation centers
Hospital isolation wards
Emergency room
Medical supply rooms
Waiting rooms
Preliminary courtrooms
Fitness centers and spa
Important Notice!
The optional Germicidal UV bulb enables AirPura I600 to achieve effective and speedy air sterilization from airborne pathogens and to provide a superior level of protection from viruses, bacteria, germs, microbes, in areas such as:
Infection wards
Blood stations
Rehabilitation centers
Intensive care units (ICU)
Intensive treatment units (ITU)
Critical Care units (CCU)
Pediatric intensive care units (PICU)
Newborne intensive care units (NICU)
Hemodialysis room
Blood transfusion room
Isolation wards, etc.
Air Filtration System (standard configuration)
Oversize True HEPA Filter
AirPura I600 features the exclusive oversize 3-inch deep HEPA filter packed with overwhelming 100 sq. ft. of medical grade True HEPA media. Such amount of True HEPA media guarantees the superior air filtration efficiency and unparalleled filtration capacity for all sub-micron airborne particulates down to 0.3 micron in size at a rate over 99.97%.
This size range includes: airborne pathogens (viruses, bacteria, microbes, germs), mold spores, plant spores, pollen, house dust mites and debris, pet dander, asbestos dust, bird feather dust, ground talc, microscopic ash particles in cigarette, tobacco, wildfire smoke and smoke from wood burning stove.


Polyester Pre-filter (standard)
Large standard polyester based pre-filter makes the first stage of AirPura I600 air filtration system. The pre-filter traps most of larger visible dust and dirt particles from the passing through air. This helps protect True HEPA filter from faster saturation by large dust particles and extend HEPA filter's lifetime.


Non Off-Gassing Felt Gaskets
The AirPura I600 uses chemically inert top and bottom Felt Gaskets to pressure seal the filter compartment. Felt gaskets eliminate polluted air by-pass and help improve the overall air filtration efficiency.
AirPura I600 Available Options and Upgrades
Primarily designed for large scale particulates removal, Airpura I600 can do much more with available performance enhancing options and upgrades below.
True HEPA filter with Metal Caps (optional)
The Airpura I600 optional True HEPA filter with Metal end caps (top and bottom) offer the following advantages:
- significantly improve the HEPA filter rigidity,
- ensures better vacuum seal of the filter compartment,
- eliminate possible off-gassing from the polymer caps used in a standard HEPA filter.


Germicidal UV Bulb (optional)
AirPura I600 can be upgraded with optional Germicidal UV bulb. The High output Germicidal UV Bulb uses a sterilization power of Germicidal UV light to provide a superior effectiveness in airborne pathogens control: microbes, viruses, bacteria, germs, fungi, mold spores, etc.
The Germicidal UV Bulb used in conjunction with the True HEPA filter with Titanium Dioxide coating, activates the Photocatalytic Oxidation process, which renders the unsurpassed level of abatement of dangerous hard-to-remove toxic chemicals: VOCs, ammonia, formaldehyde, carbon monoxide, carbon dioxide, pesticides.


True HEPA filter with Titanium Dioxide TiO2 Coating (optional)
True HEPA filter with Titanium Dioxide (TiO2) coating is an optional filter for AirPura I600 units equipped with the Photocatalytic Oxidation process - the innovative technology for deactivating and neutralizing dangerous chemical substances such as: formaldehyde, ammonia, VOCs, PCBs, pesticides and many other hard-to-remove toxic chemicals.


Chemical and Odor Filter (optional)
To provide an adequate removal of light regular chemicals and odors, AirPura I600 can be equipped with an optional lightweight HI-C Carbon Weave filter. The carbon weave filter is a single layer of a non woven based carbon dust filter on a frame.


Unbleached Pesticide-Free Cotton Pre-filter (optional)
The unbleached pesticide-free Cotton Pre-filter is available instead of a standard polyester based one for concerned air purifier users with specific requirements.
Motor Fan Assembly
AirPura I600 employs standard throughout the entire range of AirPura models powerful, energy efficient motorized backward impeller with variable speed control.
Rated at an impressive 560 CFM of air flow it is about 40% more powerful than the motor/fan used in most air purifiers in the same category.
The variable speed control allows users to easily select the optimal air flow for any particular air cleaning application, activity or a time of the day.
The factory balanced single piece Motor/Fan ensures a vibration and noise-free operation which helps reduce significantly reduce the level of noise.
The compact design of integrated motor/fan helps reduce weight and allows for placement of larger filters.
The AirPura I600 electric motor, wiring and electric components are isolated in a separate compartment (at very top of the unit). Such design helps eliminate the contact of already filtered air with hot motor windings and wiring, which prevents its re-contamination.

Important Notice!
On demand, the AirPura I600 can be equipped with optional 220-240 Volts/50 Hz motor and power cord per customer's specification at Extra cost.
All Metal Housing Design
AirPura I600 durable, impact resistant the all metal housing - standard for the entire lineup of Airpura portable air purifiers.
The baked-on powder coating forms durable, scratch, scuff and stain resistant appliance quality finish available in three attractive textured colors: Beige, Black and White.
The thermoset powder coating produces no toxic off-gassing and is totally chemically inert.
The 360° Polluted air intake and 360° Clean air outlet made of perforated metal grill ensure the unimpeded passage of the air through the air filtration system and help improve the overall air purifier performance.
The 360° Clean air outlet at the top section of the unit is away from dust and dirt on a floor, and helps ensure an even distribution of clean air in the room.
The Airpura I600 bottom plate features four swivel wheel casters, which ensure a high level of mobility and maneuverability in any cleaning area.
Manufacturer's Warranty
The AirPura I600 comprehensive limited manufacturer's warranty includes:

2-Years on Parts.
5-Years on Labor.

Other Products Similar to AirPura I600