AirPura P600 Plus (P600+) is the AirPura P600 Photocatalytic Oxidation air purifier enhanced with AirPura P600 Plus Titanium dioxide coated HEPA filter. The AirPura P600 Plus coated True HEPA filter boasts 3 times the Photocatalytic Oxidation capacity of AirPura P600 and makes the AirPura P600 Plus the AirPura's ultimate air purification machine for utmost effectiveness in deactivation and removal of most dangerous specific chemicals.


AirPura P600 Plus Main Purpose and Applications
The AirPura P600 Plus marvelous combination of Advanced Active air purification technologies with Passive High efficiency HEPA and Carbon air filtration system enables AirPura P600 Plus to achieve a supreme level of all regular and specific chemicals abatement, nearly 100% entrapment of all sub-micron particulates and superior level of airborne pathogen control simultaneously.
This makes AirPura P600 Plus the AirPura's ultimate air purification machine and allows it deliver the utmost protection from exposure to all dangerous air pollutants and air contaminants, which are abundant in:
Tobacco smoke, wildfire smoke
Wood burning stove / furnace smoke
Volcanic smoke and gases - VOG
Household and agricultural pesticides
Construction materials
New furniture
Paints, stains
Varnish, laquer
Paint solvents and thinners
Household cleansers
City smog
Vehicle exhaust gases
Diesel fumes
Off-gassing from office machines
AirPura P600 Plus Air Filtration System
The AirPura P600 Plus HEPA and Carbon Air filtration system representing a Passive air purification technology, comprises the following components.
True HEPA Filter with Titanium Dioxide Coating.

AirPura P600 Plus features the standard size 2-inch deep True HEPA filter enhanced with Titanium Dioxide coating of its internal surface. Aside from the main function of trapping over 99.97% of all sub-micron airborne contaminants down to 0.3 micron in size, it also plays an important role in the Photocatalytic Oxidation process. Its internal surface sprayed with Titanium dioxide coating an exposed to the UV light renders three times the Photocatalytic Oxidation capacity of the AirPura P600 unit and ensures a superier rate of specific chemical abatement.
Super HEPA Filter with Titanium Dioxide Coating - Optional

The Super HEPA filter available in AirPura P600 Plus has a 99.99% @ 0.3 micron efficiency vs. 99.97% @ 0.3 micron efficiency for standard True HEPA filter and therefore, provides a superior protection from sub-micron allergens and dust.
The AirPura P600 Plus equipped with a Super HEPA filter has a designated model number AirPura P614 Plus.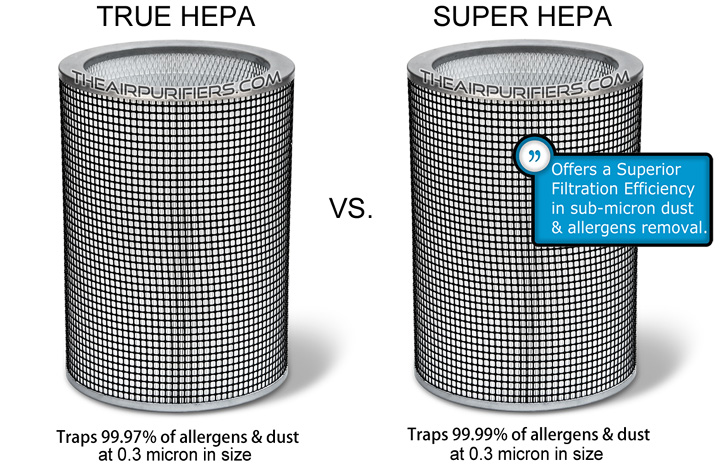 The range of airborne particulates effectively removed by True HEPA or Super HEPA filters includes:
Mold spores, Plant spores, Pollen
House dust mites and debris
Ground talc, Lung damaging dust
Pet dander, Bird feather dust
Microscopic particles in wildfire, tobacco smoke
Smoke from wood burning stove and furnace
asbestos dust
airborne pathogens: microbes, germs, bacteria, viruses
Carbon Filter Canister - Standard
AirPura P600 Plus employs a standard size 2-inch deep carbon filter filled with large amount (18 lbs.) of regular coconut shell or optional anthracite activated carbon adsorbent to guarantee fast and effective removal from of all basic household and office chemicals and noxious odors such as: cuisine odors, pet odors, musty basement odors, cigarette smoke, and many more.
Polyester Pre-Filter - Stanadard

Standard non woven polyester pre-filter traps most of larger visible dust, lint, hair and protects fine True HEPA filter from faster contamination while extending its lifetime.
Unbleached Pesticide-Free Cotton Pre-Filter - Optional

The chemically inert unbleached pesticide-free cotton pre-filter is available option at extra cost for air purifier users and individuals with elevated chemical sensitivity.


AirPura P600 Plus Advanced Air Purification Technologies
Photocatalytic Oxidation Section
The AirPura version of Photocatalytic Oxidation air purification technology, initially developed by NASA, consists of:
Germicidal UV bulb
TitanClean™ Titanium dioxide reflecto
True HEPA with Titanium Dioxide spay coat
Titanium Dioxide Reflector and True HEPA coating exposed to the Ultraviolet (UV) light initiate the Photocatalytic Oxidation process, which guarantees the utmost effectiveness in deactivation and removal from the air of nearly all hard-to-remove specific chemical substances, such as:
VOCs
Formaldehyde
Ammonia
Radon
Ozone
Carbon Monoxide and Dioxide
Pesticides, PCBs
Chemicals in Pesticides
PCBs
Butanol
Toluene
Sulfur oxides
Chloroform
VOG Chemicals
Germicidal Ultraviolet (UV) Bulb
The Germicidal UV bulb produces the ultraviolet (UVC) light of specific wavelength 253.7 nm (nanometer). The sterilization power of the Germicidal UV light is 1,600 times of a direct sunlight, and therefore is extremely lethal to airborne pathogens: viruses, bacteria, microbes, germs, fungi, mold spores, etc.
Non Off-Gassing Felt Gaskets
The AirPura P00 Plus features chemically inert top and bottom Felt Gaskets used in AirPura P600 Plus to pressure seal the filter compartment and eliminate polluted air by-pass for increased performance and the overall air filtration efficiency. The use of felt gaskets instead of common closed-cell rubber gaskets helps minimize toxic off-gassing and promotes the AirPura chemically inert design.
AirPura P600 Plus Motor Fan Assembly
AirPura P600 Plus is powered by the same high quality, energy efficient motorized backward impeller with variable speed control.
Rated at impressive 560 CFM of air flow it makes AirPura P600 Plus about 40% more powerful than most other air purifiers in the same category.
The variable speed control helps users to select the optional air flow for all household or office operating conditions.
The compact one piece Motor/Fan assembly is factory balanced to minimize vibration and noise.
The electric motor and electric components placed in a separate chamber at the top of the unit, are isolated from the filtered air to prevent its possible re-contamination.
AirPura P700 Plus Upgrade
UPGRADE to AIRPURA P700 PLUS TO GET BETTER COVERAGE AND TWICE AS QUIET OPERATION.
Upgrade to More Powerful yet Much Quieter the 700 Series EC (Electronically Controlled) Motor/Fan.
Benefits and advantages with this upgrade:
| | | |
| --- | --- | --- |
| AIRPURA MODEL | P600 Plus | P700 Plus |
| Air Flow Rating (CFM) (open air) | 560 | 635 |
| Maximum Cleaning Area, sq. ft. | 2000 | 2280 |
| Level of Noise, dB (on Low @ 6 ft.) | 39.9 | 30.2 |
To upgrade to AirPura P700 Plus unit select the 700 Upgrade option in the Power Unit Options pull down menu.
Please note. This upgrade doesn't affect all other AirPura P600 Plus features, options, warranties and replacement filters.
Power Options
The standard version of AirPura P600 Plus comes equipped with electric motor and power cord for 110-120V/60Hz for North American electric power system (USA, Canada, Mexico).
The overseas customer can opt for the unit equipped with electric motor and power cord for 220-240V/50Hz electric power system at Extra cost.
The type of electric plug should be indicated in the Comments box of the Shopping cart.
AirPura P600 Plus Housing
AirPura P600 Plus inherits the AirPura unified durable and impact resistant non off-gassing galvanized perforated steel housing.
The appliance quality baked-on powder coating is a scratch, scuff and stain resistant.
The metal housing with powder coating is totally inert and is available in three modern colors to match your decor - Beige, Black, White.
The 360° Polluted air intake (lower section of the unit) and 360° Clean air outlet (top deck of the unit) reduce noise, improve the overall air purifier performance and promote even clean air distribution.
The four Wheel Casters on the bottom panel make the relatively heavy unit easy to move in the cleaning area.
AirPura P600 Plus Manufacturer's Warranty.
AirPura P600 Plus air purifier is covered by the most comprehensive limited manufacturer's warranty.
A peace of mind Manufacturer's Warranty includes:
5 Years on Parts
10- Years on Labor