AirPura G600 air purifier equipped with AirPura G600 Odorless German Carbon and AirPura Optional Organic Cotton Pre-filter is the most chemically inert AirPura air purifier. This make AirPura G600 air purifier an ideal AirPura solution for individuals with Multiple Chemical Sensitivity.

AirPura G600 Highlights
AirPura G600 features the Chemically Inert High-Efficiency 5-Stage True HEPA and Carbon Air Filtration system.
AirPura G600 employs large amount of Chemically Inert German Odorless Carbon for effective Chemical Adsorption.
AirPura G600 is available with optional Odorless Unbleached Pesticide Free Organic Cotton pre-filter.
AirPura G600 is equipped with the compact, noise and vibration-free energy efficient one-piece motor/fan unit.
AirPura G600 costs only pennies a day to operate 24 hours a day.
The AirPura G600 variable speed control offers a convenience of multiple speed settings for all operating conditions.
The AirPura G600 impressive air flow of 560 CFM allows effectively purify areas up to 2000 sq. ft.
AirPura G600 features non off-gassing the all metal housing with a durable textured appliance quality finish.
AirPura G600 carries one of the strongest in the industry the 10-Year manufacturer's warranty.
AirPura G600 doesn't produce any Ozone or any toxic off-gassing and is a Totally chemically inert air purifier.
AirPura G600 is equipped with 4 nylon wheel casters for easy mobility in the entire cleaning area.
AirPura G600 ships Free in US and Canada by Ground service. No US Sales Tax and No Border fees.
AirPura G600 comes with a 30-Day Money Back Satisfaction Guarantee Return policy (some conditions apply).
AirPura G600 - When to Use?
The AirPura G600 packed with the most chemically inert features and properties, is an ideal AirPura air purifier for creating and maintaining the allergen and chemical-free environment for individuals with Multiple Chemical Sensitivity. Equipped with a powerful motor/fan, a single Airpura G600 is perfect for cleaning air in a large open area or in multiple adjacent rooms up to 2000 sq. ft.
AirPura G600 Air Filtration System
True HEPA Filter (Standard)
The AirPura G600 True HEPA filter traps over 99.97% of all solid airborne contaminants down to 0.3 micron in size to provide a superior level of protection from lung damaging dust, allergens, cigarette smoke, etc.
The range of solid airborne contaminates removed by True HEPA filter at a nearly 100% rate includes:
asbestos dust
mold and plant spores
pollen
germs, fungi, bacteria, microbes
house dust mites and debris
lung damaging dust
pet dander
bird feather dust
microscopic ash in tobacco smoke and smoke from wood burning stove
particles in wildfire smoke, etc.
The AirPura G600 True HEPA filter's metal end caps (top and bottom) prevent off-gassing and contribute into the Total Chemically Inert design of the AirPura G600.
Super HEPA Filter (Optional) - Model G614
The AirPura G600 can also be equipped with Optional 99.99% efficiency Super HEPA filter instead of the 99.97% efficiency standard True HEPA filter at extra cost. Due to the higher rate of removal of microscopic allergens and lung damaging dust, the Super HEPA filter offers a Superior level of protection to individuals with respiratory illnesses. The AirPura G600 model equipped with a Super HEPA filter has a designated model number AirPura G614.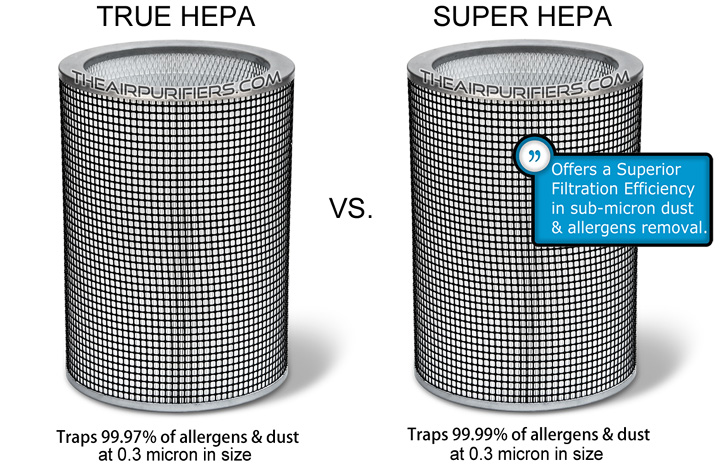 To get the AirPura G600 air purifier with a Super HEPA filter select the Super HEPA option from the HEPA FILTER pull-down menu above the "Add to Cart" button.

Filter Canister with Odorless Carbon
The AirPura G600 filter canister is filled with large amount (18 lbs.) of Certified Odorless German Carbon 'Silcarbon SC44' adsorbent.
The German Odorless Adsorbent is certified for being totally chemically inert and therefore safe for use by individuals with Multiple Chemical Sensitivity.
The German Odorless Adsorbent is also KOSHER and HALAL certified.
Such a large amount of adsorbent guarantees fast and effective removal of most regular chemicals and noxious odors such as:
cuisine odors
pet odors
chemicals in tobacco smoke and smoke from wood burning stove
chemicals from wildfires
cleansers
exhaust gases
perfumes
and many more.
Pre-filter
The optional unbleached Pesticide-free organic Cotton Pre-filter can be used instead of a standard polyester pre-filter as important upgrade for individuals Multiple Chemical Sensitivity. The chemically inert unbleached pesticide-free Cotton pre-filter produces no odors and no off-gassing. The odorless cotton pre-filter traps large dust and dirt particles and protects True HEPA filter from faster contamination and extend its lifetime.
The pre-filter can be vacuumed right through the metal mesh of the air purifier polluted air intake grill with a soft brush. The pre-filter has to be replaced when it gets very dirty or ruined (usually every 9 to 12 months).
AirPura G600 Motor Fan Assembly
AirPura G600 employs powerful, yet energy efficient single piece integrated Motor/Fan module with a variable speed control rated.
The motor/fan is rated at an impressive 560 CFM of air flow (open air) - 40% higher than most other air purifiers in the same category.
The AirPura G600 one-piece integrated Motor/Fan module is factory balanced for vibration and noise-free operation.
The variable speed control offers a convenience of setting up the optimal air flow in all conditions.
The AirPura G600 electric motor and electric components and wiring are placed in separate chamber (top of the unit).
This design helps eliminate the contact of the already filtered air with the air purifier components and prevent its re-contamination.
This design is an important part of the of the AirPura G600 Total Chemically Inert concept.
AirPura G700 Motor / Fan Upgrade.
UPGRADE TO AIRPURA G700 TO GET 15% BETTER COVERAGE AND TWICE AS QUIETER OPERATION.
Upgrade to More Powerful yet Much Quieter the 700 Series EC (Electronically Controlled) Motor/Fan and get the following improvements.
| | | |
| --- | --- | --- |
| AIRPURA MODEL | G600 | G700 |
| Air Flow Rating (CFM) (open air) | 560 | 635 |
| Maximum Cleaning Area, sq. ft. | 2000 | 2280 |
| Level of Noise, dB (on Low @ 6 ft.) | 39.9 | 30.2 |
To upgrade to AirPura G700 unit select the 700 Upgrade option in the Power Unit Options pull down menu.
Please note. All other AirPura G600 features, options, warranties and replacement filters remain unaffected by this upgrade.
AirPura G600 Power Supply Options
In standard configuration AirPura G600 comes equipped for 120V, 60Hz power supply system - North America (USA, Canada, Mexico).
The optional configuration with the motor and power cord for 220-240V, 50Hz power supply is available for overseas customers at Extra cost.
AirPura G600 Housing
AirPura G600 air purifier features durable, impact resistant the all metal housing design.
The appliance quality thermoset powder coating resists scratching, scuffing and stain.
The metal housing and the powder coating is totally chemically inert and produce no toxic off-gassing.
The AirPura G600 360° Polluted air intake (lower deck of the unit) and the 360° Clean air outlet at the top deck of the unit ensure unimpeded air flow, reduce noise and improves the overall air purifier performance.
The four Wheel Casters (made of non off-gassing nylon) on the bottom panel ensure an easy mobility.
AirPura G600 Manufacturer's Warranty
AirPura G600 air purifier comes with the most comprehensive limited manufacturer's warranty.
It includes:
5-Year Warranty on Parts and Labor.
10-Year Warranty on Labor.
AirPura G600 Certification
AirPura G600 air purifier is certified for safety by the US and Canadian certification authorities.
The AirPura G600 conforms to ANSI and UL 507; CSA C22.2 #113
AirPura G600 Air Purifier What's Included
AirPura G600 air purifier comes from the factory:
Brand New and Fully assembled.
With all filters installed (per model specification).
Ready-to-use (unpack and plug it in).
No installation required.
AirPura G600 Shipping Terms and Conditions
AirPura G600 air purifier ships free of charge by FedEx Ground delivery service in the Continental USA and Canada.
Other delivery services are available at a cost (will be displayed in the shopping cart).
There are no additional charges or extra fees related to the border crossing shipment (if any) for all US and Canadian customers.
AirPura G600 air purifiers are shipped in certified triple-wall corrugated durable cardboard boxes with generous cushioning.
The packaging is designed to provide sufficient protection from possible damages in transit under most circumstances.
Nevertheless, if the unit is found to be Damaged in transit or Defective upon arrival it will be promptly replaced with new one Free of Charge.
The problem with the unit has to be reported to the Customer Service without a delay to schedule its prompt replacement.