AirPura R400 the AirPura new compact, lightweight, more affordable version of the highly acclaimed AirPura R600 / R700 multipurpose air purifiers delivers the same Great level of air filtration efficiency for allergens, dust, airborne pathogens and chemicals in 1012 sq. ft. area on a Smaller budget.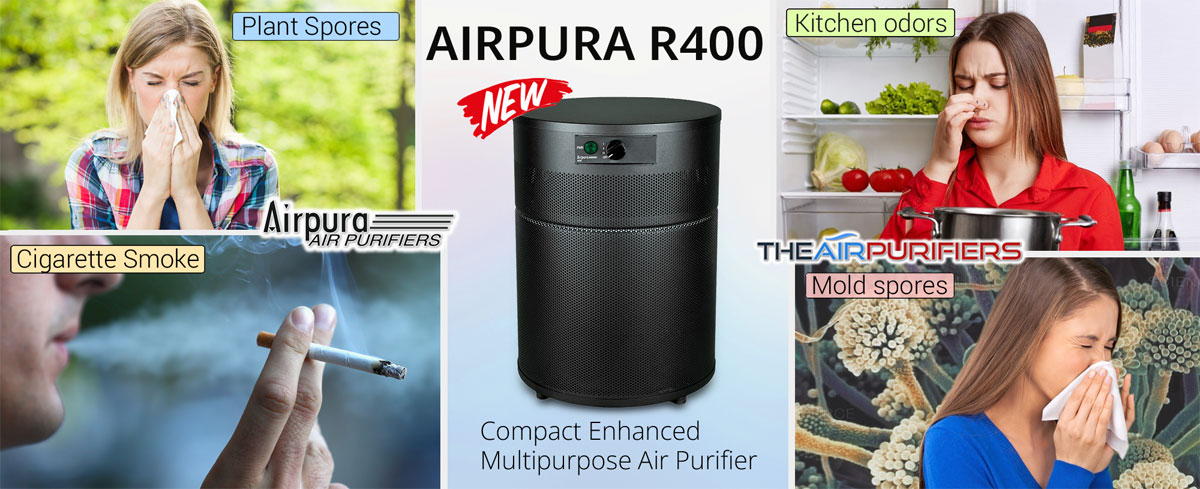 AirPura R400 / R414
The AirPura R400 High Efficiency Air filtration system comprises the much improved True HEPA and Carbon Canister filters.
AirPura R400 is equipped with the energy efficient extra quiet single-piece motorized backward impeller.
The AirPura R400 3-speed electronically controlled motor (ECM) with On/Off switch helps easily find the optimal fan speed.
The AirPura R400 impressive air flow of 360 CFM makes AirPura R400 effective in purifying large areas under 1012 sq. ft.
The AirPura R400 non off-gassing the all metal housing features durable appliance quality thermoset powder coating.
The AirPura R400 10-Year manufacturer's warranty gives users the peace of mind.
AirPura R400 doesn't produce Ozone or any toxic off-gassing, which makes the R400 suitable for individuals with MCS.
AirPura R400 rubber pads on the bottom plate help reduce vibration and ensure stability during operation.
AirPura R400 ships Free of charge Standard Ground service in US and Canada.
There are No US Sales Tax and No Border crossing fees for AirPura R400 shipments.
AirPura R400 comes with a 30-Day Money Back Satisfaction Guarantee Return Policy (some conditions apply).
AirPura R400 Advantages
Compact, iightweight, efficient, extra quiet, more affordable
provides fast and effective air purification in 1012 sq. ft areas
simple operation and maintenance
available alternative filter options
superior level of durability and reliability
employs hihg quality large long-lasting filters
requires minimal maintenance
energy efficient air purifier
10-Year overall limited manufacturer's warranty
AirPura R400 Main Application
The AirPura R400 is a superb AirPura portable air purifier that helps easily create and maintain clean and healthy indoor environment in open areas or in adjacent rooms up to 1012 sq. ft. The AirPura R400 large premium quality long-lasting HEPA and Carbon filters along with the AirPura powerful, energy efficient and quiet integrated motor-fan and durable the all steel housing make the AirPura R400 an ideal multipurpose air purifier for all general residential, institutional and commercial air cleaning purposes.
AirPura R400 Air Filtration System


True HEPA Filter
The AirPura R400 employs large 1-inch deep True HEPA filter packed with 40 sq. ft. of Certified True HEPA media. The medical grade True HEPA filter traps over 99.97% of all solid airborne contaminants down to 0.3 micron in size and provides an exceptional protection from exposure to sub-micron allergens, dusct airborne pathogens, etc.
The range of solid airborne pollutants effectively removed by True HEPA filter includes, but is not limited to:
asbestos dust
mold and plant spores
pollen
house dust mites and debris
lung damaging dust
ground talc
pet dander
bird feather dust
particulates in tobacco smoke, wildfire smoke, smoke from wood burning stove
airborne pathogens: microbes, bacteria, viruses, fungi
Large Carbon Filter Canister
The AirPura R400 separate filter canister accommodates a substantial amount (8 lbs.) of activated carbon adsorbent from coconut shell - the stanndard type of adsorbent widely used in high performance air purifiers. This is the largest amout of adsorbent among all units in this size and price rnage. Large amount of adsorbent is essential to ensure fast and effective removal of all regular chemicals and noxious odors, such as:
cuisine odors
pet odors
chemicals in tobacco smoke, wildfire smoke
smoke from wood burning stove
cleansers
exhaust gases
pet odors
light VOCs
fresh paint odors
and many more
Polyester Pre-filter (Standard)
The Polyester based Pre-filter located right behind the perforated metal mesh of the air intake, is the first stage of the AirPura R400 air filtration system. The main npurpose of the pre-filter is to traps larger dust and dirst particulates and protect fine True HEPA filter from fast contamination, while extending the HEPA filter's lifetime.
Pre-filter can be vacuumed from outside right through the metal grill of the air purifier's polluted air intake, and has to be replaced when it gets very dirty or ruined (typically every 9 to 12 months).
Available Filter Options and Upgrades.


Unbleached Pesticide-Free Cotton Pre-Filter (optional)
Unbleached Pesticide-free cotton pre-filter is the available options instead of the Standard polyester based pre-filter for concerned individuals.
Super HEPA Filter - AirPura R614
The AirPura R400 can be equipped with the optional 99.99% @ 0.3 micron higher efficiency Super HEPA filter instead of the standard 99.97% @ 0.3 micron efficiency True HEPA filter at extra cost. The Super HEPA filter has a higher filtration efficiency in trapping sub-micron allergens, dust, airborne pathogens and offers a Superior level of protection to individuals with respiratory illnesses and ailments. The designated model number for AirPura R400 equipped with a Super HEPA filter is AirPura R414. Select the Super HEPA filter option from the HEPA Filter pull-sown menu to get the AirPura R414 equipped with the Super HEPA filter.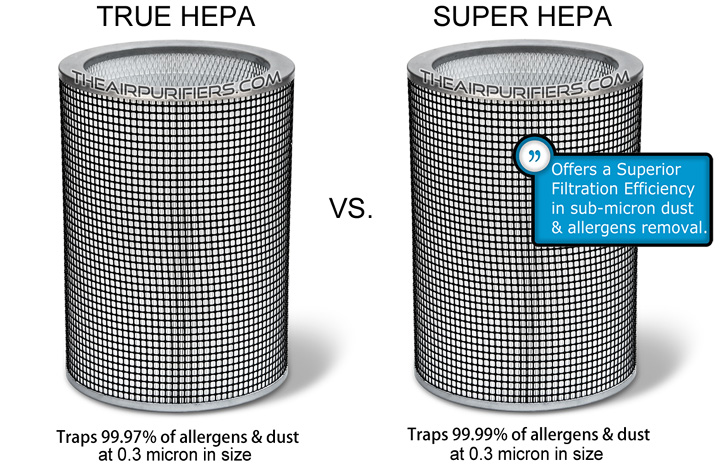 Integrated Motor Fan Assembly
AirPura R400 is equipped with a powerful, energy efficient and super quiet single piece integrated Motor/Fan.
The powerful motor/fan rated at 360 CFM of air flow (open air) allows the AirPura R400 effectively clean air in 1012 sq. ft. areas.
The Electronicaly Controlled Motor with 3 Speed settings helps easily find the optimal air flow for various air cleaning applications.
The AirPura R400 one-piece integrated Motor/Fan assembly is factory balanced to ensure a vibration and noise-free operation.
The compact design of a motor / fan takes minimal space and allows to accommodate larger filters.
The AirPura R400 electric motor and electric components are isolated in separate chamber at the top deck of the unit.
Suuch design helps eliminate the contact of the already filtered air with the air purifier components and prevent its possible re-contamination.
Power Supply Options
AirPura R400 comes equipped with a standard 120V, 60Hz motor and power cord for North America (USA, Canada, Mexico).
The optional motor and power cord for 220-240V, 50Hz power supply are available for overseas customers at Extra cost.
The type of electric plug can be provided in the Comments box of the Shopping cart during the ordering process.
AirPura R400 Housing
AirPura R400 air purifier showcases compact durable and impact resistant the all metal housing.
The appliance quality thermoset powder coating forms a durable scratch, scuff and stain resistant surface.
The appliance quality powder coat doesn't produce any toxic off-gassing and is totally chemically inert.
The 360° polluted air intake (lower section of the unit) helps improve the overall air purifier performance.
The 360° clean air outlet at the top section of the unit is away from dust and dirt on the floor and ensures an even clean air distribution in the room.
The rubber feet on the bottom plate help reduce the vibration and ensure a stibility of the unit.
AirPura R400 Maintenance
The AirPura R400 air purifier is virtually maintenance free.
The simple maintenance is limited to:
vacuum the pre-filter every few weeks using a vacuum cleaner with a soft brush.
replace the pre-filter when it gets very dirty or riuned - typically every 9 to 12 months.
replace the HEPA and Carbon filters according to a schedule or the filter condition.
wipe off or vacuum the dust from the air purifier housing - when needed.
Manufacturer's Warranty
AirPura R400 air purifier carries one of the most comprehensive warranty in the air purifier industry.
The Manufacturer's Limited Warranty includes:
5-Year Warranty on Parts and Labor
10-Year Warranty on Labor
Such warranty gives the AirPura users a Peace of Mind and promotes a Worry-free ownership of AirPura air purifier.
AirPura R400 Certification
AirPura R400 air purifier is certified by the US and Canadian certification authorities.
The AirPura R400 conforms to ETL No. 3067330 / UL 507 / CSA C22.2 #113 certification.

AirPura R400 - What's Included
AirPura R400 arrives from the factory:
Brand New and Fully assembled.
All filters installed (per model specification).
Ready-to-use (unpack and plug it in).
No installation is required.
Shipping Terms and Conditions
The AirPura R400 ships Free by FedEx Ground or UPS Standard delivery services in Canada and Continental USA.
The faster delivery services are available at extra cost, and will be displayed in the shopping cart.
There are no other charges or fees associated with the border crossing shipments (if applicable) for all US and Canadian customers.
AirPura R400 air purifiers are shipped in durable triple-wall corrugated cardboard boxes with abundant padding and cushioning.
The packaging provides excellent protection from possible damages in transit under most circumstances.
Nevertheless, it is strongly recommended to inspect the shipping box and the content for possible damages in transit pon arrival.
If upon arrival the unit is found to be Damaged or Defective, it will be promptly replaced with new one Free of Charge.
The problem with the unit has to be reported to the carrier at a time of delivery and to our company's customer service without a delay to arrange a prompt replacement.


AirPura R400 Replacement Filters
AirPura R400 / R414 Filter Bundles (save up to 28%)