AirPura H600 features the AirPura H600 premium True HEPA filter and the AirPura powerful motor/fan, which makes AirPura H600 an excellent Allergy and Asthma air purifier for bringing relief to Allergy and Asthma sufferers in large homes, offices and workplace areas under 2000 sq. ft.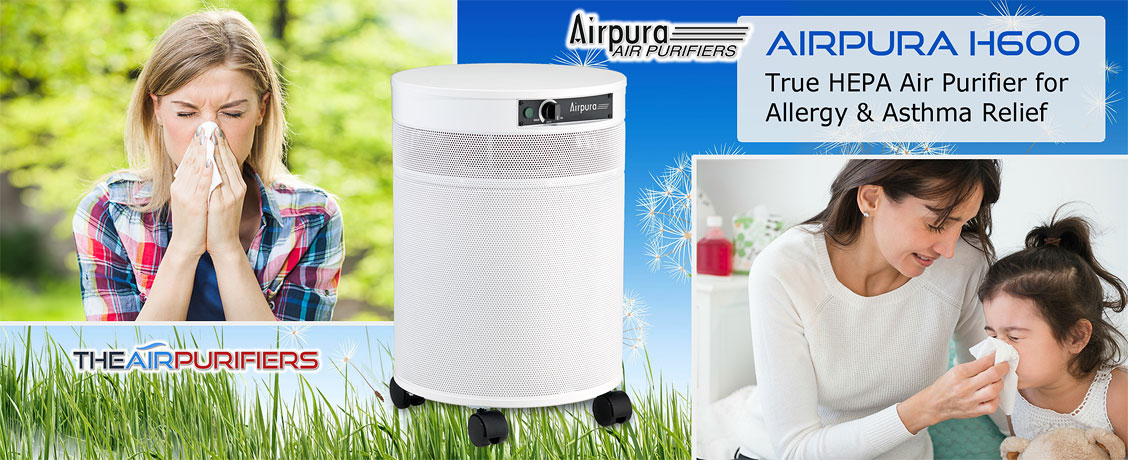 AirPura H600 Features
AirPura H600 employs large certified True HEPA filter to trap nearly 100% of all allergens and dust.

AirPura H600 is powered by a quiet energy efficient one-piece motorized backward impeller fan.

The AirPura H600 variable speed control helps easily select the ideal speed setting for all operating conditions.

The AirPura H600 impressive air flow rate of 560 CFM makes the H600 sufficient for large areas up to 2000 sq. ft.

AirPura H600 features durable, non off-gassing the all metal housing with appliance finish thermoset powder coating.

AirPura H600 is covered by a 10-year limited manufacturer's warranty - one of the strongest in the industry.

AirPura H600 doesn't produce ozone or any toxic off-gassing and is a chemically inert air purifier.

There is a FREE Shipping for AirPura H600 by Ground service in Continental USA and Canada.

The AirPura H600 purchases are Tax Free for all US and International customers.

There are No Border crossing charges or fees on the shipments of AirPura H600 in US and Canada.

AirPura H600 carries a 30-Day Money Back Satisfaction guarantee Return policy.
AirPura H600 - Main Purpose.
The AirPura H600 main purpose is to remove all common and sub-micron allergens and dust out of the air and thus to create the allergen-free environment to help allergy and asthma sufferers breathe much easier and keep allergy and asthma symptoms under control.
AirPura H600 Air Filters and Filter Options
Premium True HEPA Filter
AirPura H600 air purifier is equipped with large 2-inch deep True HEPA filter containing 40 sq. ft. of True HEPA filter media - similar to the one installed in AirPura R600. True HEPA filter has a guaranteed efficiency in trapping from the air over 99.97% of all microscopic solid airborne contaminants down to 0.3 micron in size. That includes all common allergens highly prone to cause the allergic reaction or even asthma including:


mold spores
plant spores
pollen
house dust mites and debris
lung damaging dust
pet (dog and cat) dander
bird feather dust
sub-micron particles in tobacco smoke, wildfire smoke, smoke from wood burning stove
asbestos dust
ground talc
cement dust
airborne pathogens - germs, microbes, bacteria, viruses, fingi
etc.



Super HEPA Filter - Optional (AirPura H614)
The AirPura H600 can be supplied with the optional 99.99% efficiency Super HEPA filter in lieu of the standard 99.97% efficiency True HEPA filter at extra cost. The Super HEPA filter has a superior filtration efficiency for all sub-micron allergens and dust, and therefore is beneficial for individuals with respiratory disorders and illnesses. The designated model number for AirPura H600 equipped with a Super HEPA filter is AirPura H614.



Select the Super HEPA filter from the HEPA FILTER pull-down menu to get your AirPura H600 air purifier equipped with a Super HEPA filter.


Chemical and Odors Filter
Unlike the AirPura R600 multipurpose air purifier, the AirPura H600 employs a lightweight HI-C carbon weave filter. The HI-C carbon weave filter provide an adequate removal of most household chemicals and noxious odors while making the AirPura H600 about 16 lbs. lighter - easier to carry up and down stairs when necessary.


Germicidal UV Bulb (available option)
For those who require a high level of protection from exposure to airborne pathogens: microbes, bacteria, germs, fungi, etc. the AirPura H600 air purifier can be equipped with optional Germicidal UV bulb at extra cost.


Pre-filter (standard)
Large polyester based pre filter is the first stage of the AirPura H600 air filtration system. It captures from the air most larger visible size dust and dirt particles and protects fine True HEPA filter from fast contamination and extends its lifetime.


Cotton Pre-filter (Optional)
The optional Unbleached Pesticide-free Cotton Pre-filter is available instead of the standard polyester one for concerned air purifier users with Multiple Chemical Sensitivity (MCS).


Filter Compartment Felt Gaskets
AirPura H600 features top and bottom Felt Gaskets as a standard feature. The chemically inert felt gaskets are used to pressure seal the filter compartment to eliminate polluted air by-pass and increase the overall air purifier performance.
AirPura H600 Motor Fan Assembly.
As all AirPura air purifier models, the AirPura H600 is equipped with the same powerful, energy efficient and compact Motor/Fan unit with a variable speed control rated at 560 CFM of air flow.
The variable speed control with multiple speed settings helps easily select the optimal air flow for any particular air application, activity or a time of the day.
The one-piece Motor/Fan assembly is factory balanced to ensure vibration and noise-free operation.
The compact design of a motor / fan unit leaves more room in the filter compartment for placement of larger filters.
The electric motor, wiring and electric components are placed in a separate chamber at the top deck of the unit. This ensures that the filtered air doesn't get in contact with hot motor windings and electric components and prevents its re-contamination.
AirPura H600 Power Supply.
In standard configuration the AirPura H600 is supplied from the factory with electric motor and power cord for 110-120V/50Hz power system.
The AirPura H600 is also available with optional 220-240V/60Hz electric motor and power cord per customer's specification at Extra cost.
AirPura H600 Housing
As all AirPura 600 series models, the AirPura H600 features the durable and impact resistant the all metal housing.
The appliance quality baked-on powder textured coating available in three colors has an attractive modern appearance.
It forms the durable scratch, scuff and stain resistant surface that lasts for many years.
The baked-on powder coating is totally chemically inert and produces no toxic off-gassing.
The 360° polluted air intake made of perforated grill ensures the unobstructed polluted air inflow and improves the overall air purifier performance.
The 360° Clean air outlet at the top deck of the unit away from dust and dirt on the floor provides an even distribution of the purified air in the room.
The four Wheel Casters on the bottom panel ensure the high level of mobility and maneuverability.
AirPura H600 Warranty
AirPura H600 most comprehensive peace-of-mind 10-Year Limited manufacturer's warranty includes:
5-Year Warranty on Parts and Labor.
Additional 5-Year warranty on Labor.
The Total duration of Limited Manufacturer's Warranty - 10 Years.
AirPura H600 - What's Included in the Box
AirPura H600 air purifier comes from the factory:
Brand New and Fully assembled.
With full set of filters installed (per model specification).
Ready-to-use (unpack and plug it in).
No installation is required.
AirPura H600 - Shipping Terms and Conditions
AirPura H600 air purifiers ship free of charge by FedEx Standard Ground delivery service in the Continental USA and Canada.
Faster delivery services are available at a cost (will be displayed in the shopping cart).
There are No additional charges or Extra fees related to the border crossing (if any) for all US and Canadian customers.
AirPura air purifiers are shipped in durable triple-wall certified corrugated cardboard boxes.
The packaging is designed to provide superior protection from possible damages in transit under most circumstances.
However, in case the unit is found Damaged or Defective upon arrival, it will be promptly replaced with new one Free of charge.
The problem has to be reported to the driver and Customer Service without a delay to schedule its prompt replacement.