Amaircare Roomaid Mini a compact and lightweight multi-purpose Amaircare air purifier is a shorter version of the Amaircare Roomaid air purifier. Amaircare Roomaid Mini features the True HEPA and VOC cartridge air filtration system. It makes the Roomaid Mini a perfect air purifier for small areas, such as: bedroom, nursery, dorm room, cubicle, hotel room. With available Auto Kit the Amaircare Roomaid Mini is a perfect air quality solution for cars, trucks, RVs, boats, etc.
Amaircare Roomaid Mini - When to Use?
Amaircare Roomaid Mini Portable Air Purifier employs high efficiency True HEPA filter for trapping all airborne air pollutants and a VOC cartridge for effective adsorption of VOCs, ammonia, formaldehyde and other dangerous specific chemicals. Along with a compact lightweight design (only 4.4 lbs.) and the ability to run from virtually all power sources, Amaircare Roomaid Mini is highly beneficial for individuals with active lifestyle or people on-the-go. The available Auto kit also makes Roomaid Mini an indispensable air cleaning device to combat the air pollution in cars, trucks, RVs, especially for individuals whose activities include a long daily commute in heavy traffic of metropolitan areas.
Amaircare Roomaid Mini - Air Filtration System
The Amaircare Roomaid Mini portable air purifier comprises a 3-Stage air filtration system.
Foam Pre-filter
The foam pre-filter (1st stage of air filtration system) captures large dust and dirt particles.
The pre-filter helps protect fine True HEPA filter from fast contamination and extend its lifetime.
The foam pre-filter can be vacuumed or washed between replacements.
The replacement pre-filter lifetime is up to 12 months.
It is a part of the replacement annual filter kit.
The Roomaid Mini employs True HEPA filter cartridge, which effectively traps over 99.97% of all airborne allergens and dust down to 0.3 micron in size.
True HEPA filter cartridge features a Snap-On design. It allows to replace the main filter cartridge without any tools - just pop it off and on.
True HEPA filter cartridge comes in four corresponding colors: Orange, Blue, Pink, Green.
The effective True HEPA surface area - 15 sq. ft.
True HEPA Filter's lifetime - 2 to 5 years.


The Roomaid Mini's VOC cartridge is filled with 0.91 lbs (0.2 kg) of Amaircare proprietary 'Forfmaldezorb' adsorbent, which provides an effective removal of hazardous VOCs, formaldehyde and other dangerous chemical substances released by cleansers, paints, carpet, wallpaper, furniture, consumer electronics, off-gassing from new vehicles, and contained in exhaust fumes, diesel fumes, fuel fumes, cigarette smoke, etc.
The Roomaid Mini VOC Cartridge Filter's lifetime: up to 12 months.
Vacuum Seal Gasket
The Integrated rubber gasket vacuum seals the filter chamber.
The vacuum seal gasket helps eliminate polluted air by-pass and improves the overall air filtration efficiency.
Amaircare Roomaid Mini - Motor Fan Assembly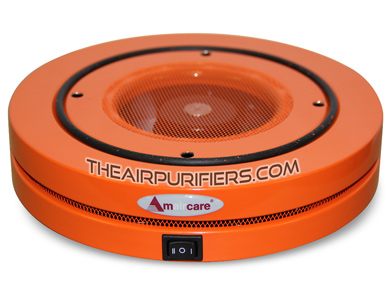 Amaircare Roomaid Mini air purifier is powered by Energy efficient and quiet 12V DC (direct current) electric motor with centrifugal fan.
The power consumption is only 5 Watts.
The electric motor is rated for a long continuous operation and a long lifetime, and is run tested for 35,000 hours of continuous operation.
The Roomaid Mini's 2-speed settings motor/fan is rated at 20 CFM (Low) and 40 CFM (High).
It delivers the air flow sufficient for effective cleaning areas up 65 sq. ft. on Low and up to 130 sq. ft. on High
The level of noise is below 30 dB.
Amaircare Roomaid Mini - Air Purifier Housing
Amaircare Roomaid Mini features durable, impact resistant the all steel housing design made of 24 gauge cold rolled steel.
The appliance quality baked-on powder coating produces No toxic off gassing and is available in four vibrant colors: Orange, Blue, Pink, Green.
The 360° polluted air intake at the upper deck of the unit improves the overall air purifier performance.
The 330° clean air outlet located at the lower section of the unit evenly distributes clean air within the room.
Amaircare Roomaid Mini - What's Included
Amaircare Roomaid Mini air purifier comes from the factory:
Fully Assembled.
With full set of Filters installed.
Includes 120V/60Hz AC to 12V DC power adaptor (Type K Plug) with 7 feet power cord.
Ready-to-Use (unpack and plug it in).
Important Notice.
The Universal 12V DC Power adaptor allows the Amaircare Roomaid Mini be run from virtually any power source anywhere in the world.
Amaircare Roomaid Mini Auto Kit Optional Accessory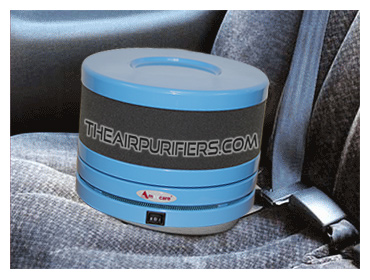 The available optional Auto Kit allows to use Roomaid Mini as an effective air purifier inside your car, truck, RV, boat, etc.
The Auto Kit consists of the Power Adaptor and a Secure seatbelt plate.
The Power adaptor allows to power your Roomaid Mini from 12V DC car outlet (cigarette lighter).
The Secure plate of a matching color safely secures your Roomaid Mini air purifier to a seatbelt.
Amaircare Roomaid Mini Manufacturer's Warranty
The Amaircare Roomaid Mini Manufacturer's warranty includes:
5 Years on Motor / Fan assembly.
1 Year on All other parts (filters excluded).
Amaircare Roomaid Mini - Shipping Terms and Conditions
Amaircare Roomaid Mini air purifier ships free of charge by UPS or FedEx Ground delivery services in Canada and the Continental USA.
Other faster delivery services are available at a cost (will be displayed in the shopping cart).
There are no additional charges or extra fees related to the border crossing (if involved) for all US and Canadian customers.
If the unit is found Damaged or Defective upon arrival, it will be promptly replaced with new one Free of charge.
The problem has to be reported to the Customer Service without a delay to schedule its prompt replacement.