Austin Air HealthMate Plus HM450 employs the Austin Air Superblend specialty adsorbent. Along with a powerful motor it allows Austin Air HealthMate Plus HM450 air purifier to guarantee extra efficient removal of VOCs, formaldehyde, ammonia and most other specific chemicals in homes, offices and workplace areas under 1500 sq. ft.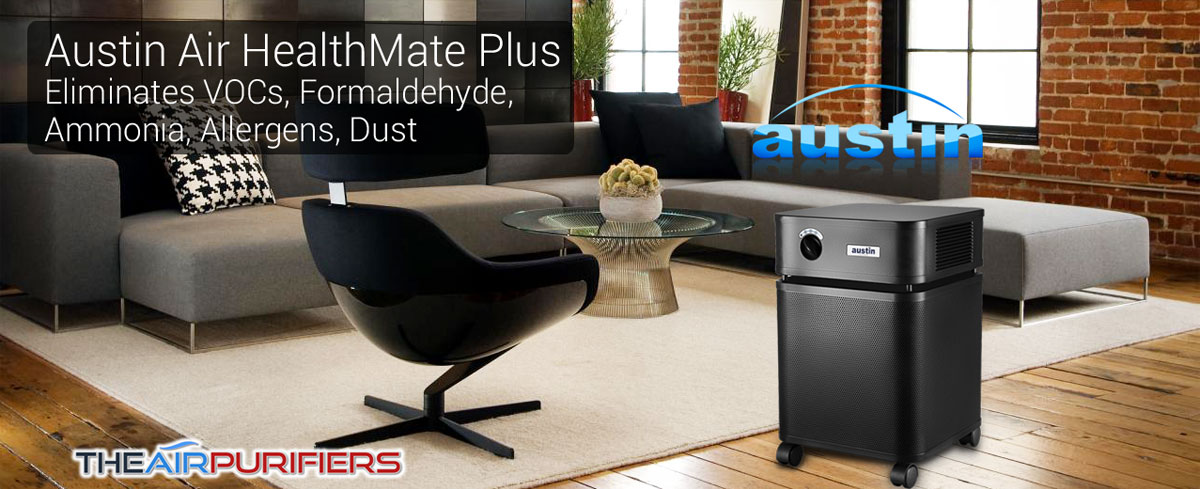 Austin Air HealthMate Plus Focal Points
Austin Air HealthMate Plus HM450 employs large True HEPA and Superblend Specialty Enhanced Carbon for effective removal of VOCs and Specific Chemicals.
The Austin Air HealthMate Plus filter assembly combines 60 sq. ft. of 99.97 % efficiency True HEPA media and 15 lbs. of Superblend adsorbent.
Austin Air HealthMate Plus is powered by energy efficient and quiet split capacitor motor with backward impeller - fan.
The 3-Speed control gives the Austin Air HealthMate Plus users flexibility of selecting the most suitable speed setting.
Rated at 400 CFM the Austin Air HealthMate Plus has a sufficient power to purify areas under 1500 sq. ft. @ 2 ACH (air changes per hour)
The Austin Air HealthMate Plus the all metal construction features the appliance quality durable baked-on powder coating.
The textured finish coat is available in four attractive modern colors to match your decor.
Austin Air HealthMate Plus is covered by a 5-Year Limited manufacturer's warranty and a 5-Year Pro-Rated warranty on filters.
Austin Air HealthMate Plus HM450 Ships FREE in Continental USA and Canada.
The Austin Air HealthMate purchases are US Sales Tax FREE.
There is No other Charges or Fees for all US customers.
Austin Air HealthMate Plus Main Purpose
With the Air filtration system tailored for enhanced removal of VOCs and hard to remove specific chemicals, the Austin Air HealthMate Plus air purifier should be used for effective purification of the from VOCs and toxic chemicals released by:
new furniture
new carpeting
fresh paint vapors
vapors from varnish, lacquer
off-gassing from office machines
pesticides chemicals and fumes
wildfire smoke
household cleansers
perfumes, etc.
Austin Air HealthMate Plus Air Filtration System
True HEPA Filter - Large Long Lasting
Austin Air HealthMate Plus HM450 employs the standard large True HEPA filter the same one used throughout the full range of in Austin Air 400 series models. It contains a very generous amount 60 sq. ft. of medical grade True HEPA media. It has a guaranteed rate over 99.97% in trapping from the air all sub-micron airborne contaminants down to 0.3 micron in size, including: microscopic allergens, lung damaging dust, sub-micron particulates in tobacco (cigar and cigarette) smoke, wildfire smoke, smoke form wood burning stove, furnace and all other solid airborne contaminants.
Large Carbon Filter Canister with Superblend

What sets the Austin Air HealthMate Plus HM450 air purifier apart from other Austin Air models, is the activated carbon canister filled with 15 lbs. of Specially enhanced Superblend adsorbent. It is a blend of granular carbon with special additives: Potassium Iodide and Zeolite, which helps to boost the adsorption capacity for Specific chemicals including:
VOCs
pesticides chemicals
formaldehyde, ammonia
chemicals in tobacco smoke
mold mycotoxins
toxic chemicals in wildfire, tobacco smoke
exhaust gases from nearby heavy traffic
diesel fumes
household chemicals and many more.
Important Notice!
Since the True HEPA filter and Activated Carbon canister in Austin Air units are combined together in One-piece Filter assembly. the whole filter assembly has to be replaced, when either True HEPA or Activated carbon filter canister reaches the end of their lifetime.
To give the Austin Air owners the peace of mind and help to offset the cost of replacement filters, the filter assembly is covered by a 5-Year Pro-rated manufacturer's warranty. Applicable only to the units used under normal residential conditions.
Polyester PermaFilt Pre-filter
The pre-filter forms the first stage of the Austin Air HealthMate Plus air filtration system. Large non woven PermaFilt polyester Pre-filter covers the entire internal surface of a polluted air intake. Pre-filter stops most of larger dust and dirt particles, lint, hair, etc. and protects fine True HEPA particle filter from faster contamination and extends its lifetime.
PermaFilt pre-filter is available in two colors:
Black for units in Black and Midnight Blue colors
White for units in Sandstone and White colors
The pre-filter can be easily vacuumed from dust and dirt right through the metal grill and easily replaced at a minimal cost when gets ruined or dirty.
The Free pre-filter of a matching color is included with each new filter assembly.
Austin Air HealthMate Plus Motor Fan
As all 4000 series Austin Air purifiers, the Austin Air HealthMate Plus HM400 employs the same powerful, energy efficient and quiet Motor with backward impeller fan. Rated at 400 CFM (open air) if delivers ample air flow to provide effective air cleaning in large open areas under 1500 sq. ft. with the everage height of a ceiling of 8 ft.
The 3-Speed fan control offers the optimal air flow / noise ration for any particular air cleaning application or activity.
The motor is rated for a long continuous operation at high RPM and has a long lifetime.
The shock absorbers insulate the motor from the housing helping reduce the associated vibration and noise.
Austin Air HealthMate Plus Housing
The Austin Air HealthMate Plus unified body made of galvanized steel is totally chemically inert.
The durable, impact resistant all metal housing features the appliance quality baked-on powder finish.
The durable non gloss textured coating available in four attractive colors is scratch, scuff, stain and burn resistant.
The 360° perforated steel Polluted air intake (lower deck of the unit) promotes unobstructed air flow and improve the overall air purifier performance.
The single-louver Clean air outlet at the top deck away from dust and dirt on the floor allows for a directional clean air flow and improves air circulation.
Despite a heavy weight, Austin Air HealthMate Plus unit is easy to move, due to Four Wheel Casters mounted on the bottom panel.
Austin Air Manufacturer's Warranty
The same Austin Air limited manufacturer's warranty applies to Austin Air HealthMate Plus HM450 model.
The peace of mind Manufacturer's Limited Warranty includes:
5 Years on Pats and Labor.
5-Year Pro-rated warranty on Filter Assembly (under normal residential conditions only).
Shipping Options and Charge
Austin Air HealthMate Plus air purifiers are shipped FREE of CHARGE by Standard Ground service in the continental USA and in Canada out of the closest warehouses located in New York State or in Ontario, Canada.
Therefore, there are No Extra charges or Fees associated with the border crossing for all US and Canadian customers.
The faster delivery services are available on demand at Extra cost, and will be displayed in the Shipping Estimate of the shopping cart.

Please Note.
FREE Ground delivery service is not available to Hawaii, Alaska, Puerto Rico.
Other Charges or Fees.
There are NO SALES TAX on Austin Air purchases for all US customers.
Austin Air purifiers purchases by Canadian customers are subject to applicable provincial Sales Taxes.
Austin Air HealthMate Plus HM450 requires replacement filters: